The printable version of this issue is not yet available.
Events
The event calendar for the upcoming winter season is now available. Here you can find whichever clinic or assessment you're looking for, no matter what your goals for this winter are. We recommend that you register early for any events that you're considering to ensure your spot before the event fills. NOTE: The Telemark and Cross Country events will be added to the calendar in the near future.
by Dustin Cooper, Alpine Certification Manager
As we are all getting ready for the winter, it's time to start thinking about your certification plans and training this season. The PSIA-I Alpine Advisory Committee (AAC) has been meeting every few weeks throughout the summer to discuss and give input on education, certification, and DECL training within the division. This group is made up of DECLs selected by their peers to serve two years in this capacity. This creates more collaboration and discussion when making important decisions about our education and certification processes. This season there will be few updates to the PSIA-I certification process.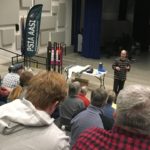 Fall Rally Recap
by Kirstie Rosenfield, PSIA/AASI Intermountain Events Coordinator
We had a great turnout for the first annual Fall Rally in Park City. Six presenters over two days covered a wide range of topics, from boot fitting to sports psychology, with some experiential learning thrown in as well. There was plenty to inspire us for the upcoming season. Our most frequent feedback request for off-snow events: free beer. So, yes, Fall Rally came with free beer! We would love to hear your suggestions for next year's topics, and remember to sign up next summer.
by Stephen Helfenbein, Alpine Education Manager
Creating a work/life balance is a challenge shared by many of us. It is certainly not getting easier for me. My wife, two-year old daughter, dog, career, and construction project leave little time unscheduled or idle. Winter is a time of manic desperation to work and play as much as possible and it's knocking on the door. So buckle up and make your plans now to get the most of it. Whatever it looks like for you, enjoy the hell out of it while achieving other goals. Balance! I just started the annual process of getting my boots fit and balanced. Seems like a never-ending process. My body changes, my equipment changes, my skiing changes, my knowledge changes, and my preferences change. That's a lot to balance!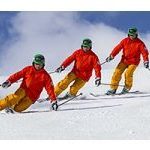 Telemark Fall Conference Report
by Scott McGee, Snow King Ski School Director
Each fall, just after the PSIA/AASI Team Training event in Colorado, our national organization gathers trainer/examiner representatives from each division, and from each of the disciplines so we can come together to achieve closer alignment on some or all of the following: certification standards, interpretation of the standards, exam formats and methods, discipline-specific fundamentals, written test/workbook materials. We also explore other ways to bring divisions' certification closer together, in content, means and result. The Tele group was focused on revisiting/revising the Tele Fundamentals, now one year out, and new Learning Outcomes designed to help PSIA/AASI achieve a credit-rated status allowing PSIA/AASI training to count for college credit. While this was a somewhat daunting task, we not only honed and clarified our message, but we also came closer together in our understanding of how we interpret standards. There is much work yet to do, but we anticipate the growing consensus-building attitude from the Teams, divisions and national can only help in the quest to provide more consistent certification processes.
by Rich McLaughlin, PSIA/AASI Intermountain President
I really love this time of year. The leaves are changing, the weather is getting cooler, and we start to think about our wintertime activities. Through all this change, I must tell you about the exciting summer. The first big news that you all have probably read about in the email from National is that we now have eight divisions instead of nine. Alaska Division has joined with the Northwest Division. The final vote count was August 11th. Their dissolvement is still on going in both divisions and in National. This process will take some time, but everything to date is going very smoothly. We do need everyone's help though; in your searches on websites, ours included, please watch for references to nine divisions or the Alaska Division. We need to make these changes in all nomenclature.
by Kim Prebish, PSIA/AASI Intermountain Communications V.P.
Thanks to many of you, I was elected to the Intermountain Board of Directors last March. In June, I attended my first board meeting. Entering the meeting room, I was excited and nervous at the same time. My mind raced with questions: What am I doing here, am I qualified for this, what do I have to offer, what is my exact role, and what can I contribute? Like any first-time meeting, we went around the room and introduced ourselves; sharing our backgrounds, a little bit about us, and what school we were from. We were all there to work as a team for PSIA and the Intermountain Division. As we begin a new season in our individual schools, whether it's your first year or you're returning for your 2nd, 3rd, 4th, or even 10th, 15th, or 20th year, we all should ask ourselves some of the same questions. What am I doing for my ski school, am I qualified and educated, what can I do to help my ski school, what is my exact role, and what do I have to contribute to my ski school?
Written by Office Staff
I know it is the very start to the season, but now is a great time to start thinking about ways to participate in the management, direction, and decisions that define the Intermountain Division by becoming a member of the Board of Directors (BOD). You do not need to be a DECL or a school director, simply a member that cares. We need BOD members that will represent the voices and opinions of many, which is the role of a Board member. As a Certified Member in good standing, you are eligible to run for the Board of Directors, and we need YOU. Nominations and applications for the PSIA/AASI-I Board of Directors are due in the Division office by Thursday, February 15, 2018. Remember that any certified member (Level I, Level II or Level III) in good standing is eligible to run and, if elected, serve.
by Mark Nakada, Children's Discipline Manager
Aloha! I hope you had a great Fall. Are you ready for it to snow? Fall Conference 2017 Recap Patti Olsen and I attended Fall Conference as Intermountain's representatives on the National Children's Task Force (NCTF). Intermountain again sent two representatives to this year's event, because I feel that Patti's perspectives from the initial National Children's Committee meetings to-date are important for the task force to consider in moving the Children's Specialist (CS) program forward. At this year's conference, the NCTF: – Reviewed the CS Standards and CS Rubric; – Developed CS learning outcomes and assessment criteria using the "learning outcomes" model developed by educators from Penn State University; – Updated the core CS question bank used by all divisions as a preparatory step towards developing and implementing a national CS1 workbook and/or evaluative quiz; – Collaborated on the proposed contents for the new Children's Manual – 3rd edition.
by Kim Prebish, PSIA/AASI Intermountain Communications V.P.
When I ran for a Member at Large position for the Board of Directors last March, I never envisioned holding the job of VP of Communications. I got to thinking, what does "Communication" really mean? It is an interesting word and, to be VP of Communications, how can I use that word to help me with my job ahead of me? To me, "communication" means speaking to one another, exchanging information and sharing. Communication is the basic way to connect with one another. It is the most important piece in a relationship either as an individual or a group. As VP of Communications how do I "communicate" with all of you? What does "communication" mean to you?
by Jesse Morse, PSIA/AASI-Intermountain IT Consultant
Wow! It has been a busy summer for us on the computer side of things in the Intermountain Division. Our primary task for this summer was to make more the website considerably more helpful for the membership. To this end, we re-organized and re-formatted most of the pages on the website to put the most important info front and center, and make it unnecessary to go digging through long documents to find the right information. We're also committed to keeping out-of-date info off the website going forward!
The biggest changes happened in the Membership and Disciplines sections, as well as the front page. If you're working on becoming certified, or you're new to PSIA, take a look around through those sections; there is lots of very useful information there that can tell you exactly what you need to do to achieve your goals.
Written by Office Staff
Welcome to (almost) winter from the PSIA/AASI-I office team. As a refresher: – Vicki Mills (
accounting@psia-i.org
) is our bookkeeper/accountant and has a great depth of knowledge regarding the Division processes. – Kathy Sudweeks (
admin@psia-i.org
) is our member service focal point, and answers most of the emails to the office, often trying to unravel complicated situations and turn them into successful situations. – Kathryn Milne (
assistant@psia-i.org
) is the member services team member who tackles whatever is needed. She is the one likely to call you in waitlist situations. – Kirstie Rosenfield (
events@psia-i.org
) is the Event Manager. She focuses on event calendar management, including ensuring sufficient staffing, minimizing waitlist situations, and handling resort management interactions (i.e. tickets and meeting space) for all disciplines. – We have contracted with Jesse Morse (
webmaster@psia-i.org
) to assist with our computer proficiency/functionality, our webpage, and our social media.
The Instructors EDGE
The Instructors EDGE, official publication of the Professional Ski Instructors of America – Intermountain Division and the American Association of Snowboard Instructors – Intermountain Division, is scheduled to be published three times a year at a nonmember subscription rate of $15. Opinions presented in the EDGE are those of the individual authors and do not necessarily represent the opinions or policies of the Professional Ski Instructors of America, Intermountain or the American Association of Snowboard Instructors, Intermountain.
Submission of articles and photos is encouraged. Contact the editor.
Editorial/Advertising Office
Rodger Renstrom, Editor
770 Pinewood Dr, Sandy, UT
(v) 801 566-9727
(e) editor@agegroupsports.com