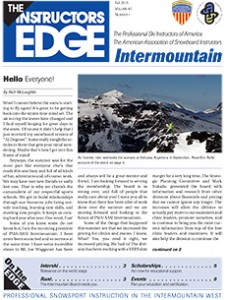 The Instructor's Edge is PSIA-AASI Intermountain's newsletter. It is published three times per year, once each in winter, spring, and summer.
All issues are published here on our website; members of PSIA-AASI Intermountain may request a print issue be mailed to them at no charge by contacting the office (admin@psia-i.org, 801-942-2066). Non-members may subscribe to the print version of the newsletter for an annual cost of $15.
Latest Issue
The most recently published Instructor's Edge issue is the Fall 2017 volume.
Back Issues
You may also view back issues of the Instructor's Edge on this page, but remember that information in those volumes may be out of date.